Revolutionizing


heart care using


artificial intelligence

Providing clinicians and patients seamless access to
AI diagnostics for the electrocardiogram.

Scroll down
Impact
Our diagnostic software platform is aimed at revolutionizing heart care by providing clinicians worldwide with seamless access to AI diagnostics for electrocardiograms (ECGs). We are committed to keeping the healthcare system affordable and sustainable by timely diagnosis of heart disease using reliable ECG diagnostics close to patients.
Timely and more accurate detection of heart disease
The AI-powered software platform for electrocardiogram analysis developed by Cordys Analytics offers a new and innovative solution for healthcare professionals to detect heart disease earlier and more accurately. By harnessing the power of advanced deep learning techniques, this software enhances the diagnostic process by identifying subtle patterns and abnormalities in electrocardiogram data that might not be easily discernible through traditional methods. The software provides valuable new insights and supports healthcare professionals in making informed decisions.
A sustainable healthcare system
By enabling early detection, prevention, and more efficient diagnosis, AI-powered ECG software has the potential to reduce overall healthcare costs by minimising hospitalizations and complications associated with untreated heart conditions. With the software from Cordys Analytics, doctors and other healthcare professionals can detect heart disease earlier and more effectively, preventing unnecessary casualties and high treatment costs in the healthcare system, while improving the quality of life for patients with a heart condition.
AI algorithms integrated in clinician's workflow
Our software's vendor-agnostic nature allows it to seamlessly connect various healthcare organisations and ECG devices, making it a versatile tool for healthcare professionals working in different clinical settings and regions around the world. Its cloud-based architecture provides operational benefits, such as real-time data analysis, remote accessibility and scalability.
Connecting
human

and

artificial intelligence

in cardiology
ECG-AI algorithms
From rhythm disorders to heart failure
Prehospital care
General practitioners and ambulance services
ECG devices
From 12-lead to wearables
Hospitals
Cardiologists and other physicians
Clinical Evidence
Through research projects with collaborators around the world, we have shown the value of ECG-based AI to improve patient outcomes.
About Us
Cordys Analytics is a spin-out company that originates from the University Medical Center Utrecht. It focuses on using AI-powered algorithms to detect heart disease from electrocardiograms (ECGs).
Our research activities began in 2018 at the University Medical Center Utrecht (UMCU) in the Netherlands by René van Es, associate professor in the cardiology department, and Rutger van de Leur, a medical doctor and PhD student. The primary goal of our research was to develop AI-powered algorithms for the detection of heart disease from 12-lead electrocardiograms (ECGs). We collaborated with the UMCU's cardiovascular group to create top-notch machine learning algorithms. The UMCU provided a valuable resource of more than 1.5 million annotated ECGs. This dataset was used to train and validate machine learning algorithms, enabling the development of tools that outperformed the existing software in ECG devices.
In 2023 our team, which now included John van den Berg as CEO, successfully created and funded Cordys Analytics as a spin-out company. In the same year Cordys Analytics entered into a long-term collaboration agreement with the University Medical Center Utrecht, strengthening its ties with the institution where it originated.
The team at Cordys Analytics brings together clinicians, engineers and data scientists, enabling our company to drive innovation in the field of heart care. Cordys Analytics represents a successful example of translating academic research into practical applications with the potential to truly improve healthcare outcomes.
Our Team
John van den Berg
Co-founder and Chief Executive Officer
John van den Berg has over 30 years of technology industry experience managing corporate development activities for companies like Dutch Railways, Nike, and Ziggo, leading high-performance teams in domestic and international markets. John is an experienced M&A executive and has been involved in dozens of acquisitions. Before taking on senior management roles, John was a management consultant with McKinsey. He holds degrees in pure mathematics and theoretical physics from Utrecht University and completed the accelerated INSEAD MBA.
René van Es
Co-founder and Chief Scientific Officer
René van Es hore more than 10 years of experience in the development and validation of medical technology. René obtained his degree and PhD in Technical Medicine working on various medical devices to improve cardiac diagnostics and therapeutics and has hands on experience with the MDR process. Since 2021 René has been working as an Associated Professor at the department of Cardiology in the University Medical Center in Utrecht where he lead the cardiology AI research group. With this group, René was involved in the development and validation of Cordys' AI-algorithm portfolio.
Rutger van de Leur
Co-founder and Chief Medical/Technical Officer
Rutger van de Leur is a medical doctor and PhD candidate at the Department of Cardiology at the University Medical Center Utrecht. Rutger obtained his bachelor and master degree in both Medicine and Epidemiology at Utrecht University in 2020. During his internship he gained interest in automated analysis of ECGs using AI algorithms. His passion is to combine his medical, statistical and AI knowledge to be a bridge between the clinician and the AI technician. Currently, he focuses on state-of-the-art innovations for successful implementation of AI into clinical practice.
We are hiring
At Cordys Analytics we believe in hiring top talented people like you - ambitious, forward thinkers who love working in a healthtech start-up environment and who want to make a difference in the world and have an impact.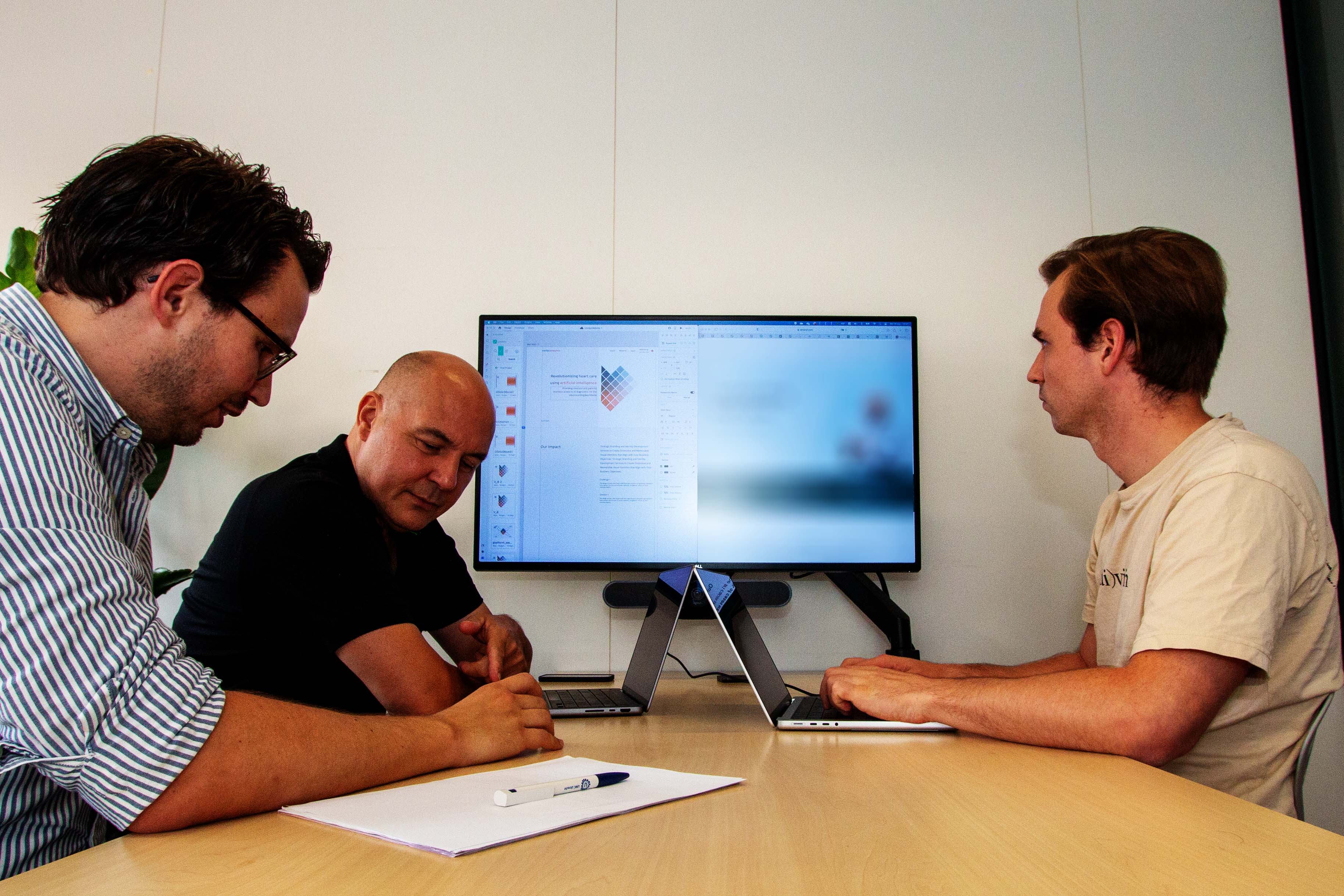 Feel like
transforming

heart care

with us?

We are located in the vibrant UtrechtInc startup incubator. Drop by our office for a coffee, or click one of the buttons below.